Frequent Problems:
Platform Access Credentials and UniTE Mobile APP
It is possible to have access to the platform E-learning and to the UniTE Mobile App by using the same credentials (Italian fiscal code and password) of the "Servizi OnLine di Ateneo".
However, in some cases, the login and the fiscal code does not work: it is therefore necessary to login using as username, the initial of the first name followed by the surname (for example: Mario Rossi → mrossi).
In order to clear any doubts, it is possible to be sure of the username to be used, by going on "Servizi OnLine" and refer to what the following statement "Utenza Servizi" indicates (see the red box).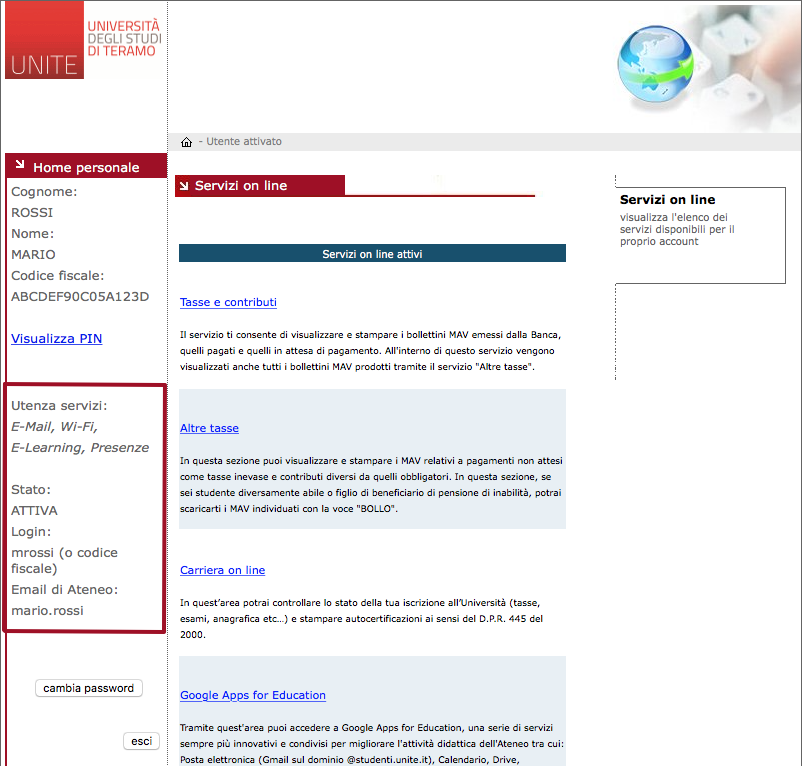 Platform Access Credentials and UniTE Mobile APP for Erasmus Students
Erasmus students, can have access by using their fiscal code as username, and the PIN given by the Erasmus Office as password.
Course Registration and Course Withdrawal
After having performed the login as a student, it is possible to make a course registration by clicking on the statement "Enrol me in this course" located at the top on the right hand side next to the "Administration block".
È possibile allo stesso modo disiscriversi ad un corso, cliccando sulla voce "Disiscrivimi da questo corso" posta in alto a sinistra in corrispondenza del blocco "Amministrazione".